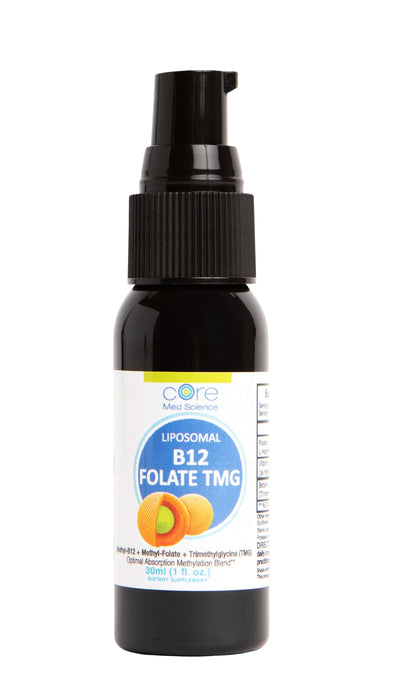 Liposomal B-12 Folate TMG - Liquid Spray (1 FL OZ/ 30 Servings)
Original price
$27.99
-
Original price
$27.99
Trusted Ingredients
Non-GMO
Alcohol-Free
Shellfish-Free
Wheat-Free
Dairy-Free
Egg-Free

Tree Nut-Free
Soy-Free
Fish-Free
Peanut-Free 





Product Description
This product is made in the USA. All ingredients are tested in a third-party cGMP facility to ensure they are of the highest quality.
The B vitamins are the unheralded Superstars of the micronutrient world, and the "King" and "Queen" are B-12 (cobalamin) and B-9 (folate).
These two nutrients are crucial to multiple key metabolic processes, including the methylation cycle (in another words genetic expression, inflammation response, neurotransmitter development and breakdown) and the balance of homocysteine in your blood - an amino acid that is linked to the health of your heart among other systems.
Homocysteine also links the methylation cycle to the synthesis of glutathione, the master antioxidant and all important Phase 2 detoxification molecule. 
Indeed these vitamins are so key for human development that deficiency in pregnant mothers has long been known to be a contributing factor in neural tube defects
 Key Benefits
Mood, Cravings And Sleep In Balance -

Support a balance of the neurotransmitters  responsible for good mood, sleep, and a sense of well-being, as well as those that manage cravings.

Clear Thinking -

A lack of B-12 and Folate (B-9) can lead to cognitive decline and even memory issues. Replenish and keep your brain sharp.

Healthy Heart -

Too little Folate (B-9) and B-12 have been associated with an increased level of a compound called homocysteine too much of which may be a contributing factor in cardiovascular disease.

Hormonal Balance -

B-12 and B-9 (Folate) are needed for enzymes we use to manufacture and break down hormones to achieve balanced levels.

Methylation Cycle Support

- Methylated B12, Methylated Folate (B-9) and Betaine (TMG) are needed to maintain normal functioning of the methylation cycle even when confronted with Single Nucleotide Polymorphisms (

SNPs

) like MTHFR.

Reduce the Risk of Neural Tube Defects - Protect your baby with this active, bioavailable form of B-12.

FAQ's
Is this product suitable for women who plan to be pregnant?
Yes! However, if you are planning to get pregnant, please consult with your obstetrician to make sure all of the ingredients are suitable for your individual care before taking this product.
Is this made here in the USA?
Yes. The product is proudly produced in an FDA registered, cGMP third party verified facility.
Is there corn in these?
No there is no corn.